Two PCF Bitmap Fonts, based on the original Terminus font.
So far, only iso8859-1 (usually called western) is implemented, and only three rather small sizes (10, 11 and 12 pixel).
Published under the Open Font License.
Comparison to the regular Terminus font: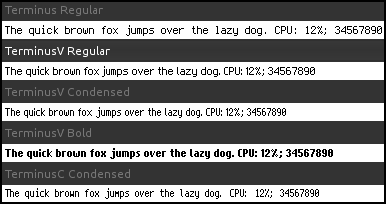 Last edited by ondoho (2018-06-22 01:36:18)
---
However studied and stilted your rant, it can never hide the base and primitve emotion that inspired it.
There's no objectivity.