Two PCF Bitmap Fonts, based on the original Terminus font.
So far, only iso8859-1 (usually called western) is implemented, and only three rather small sizes (10, 11 and 12 pixel).
Published under the Open Font License.
Comparison to the regular Terminus font: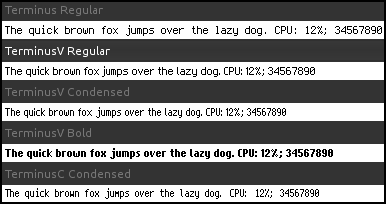 Last edited by ondoho (2018-04-18 06:31:39)
---
To provide support, we have the expectation that you know the decisions that were made about your machine at the time of the install.