Screenshot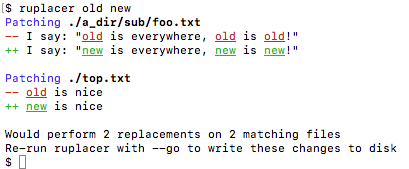 Project info
https://github.com/supertanker/ruplacer/
Ruplacer is a command-line tool to find and replace text in source files.
Features:
Honor .gitignore

Ignore binary files

Fast

Can replace patterned captured as a grouped regex

Dry run by default, use --go to write changes to disk

--subvert mode to perform case conversion
Subvert mode takes care of snake_case versus CamelCase:
$ ruplacer --subvert foo_bar spam_eggs
Patching src/foo.txt
-- foo_bar, FooBar, and FOO_BAR!
++ spam_eggs, SpamEggs, and SPAM_EGGS!
Ruplacer is available in the AUR.
If you find it useful, have some questions, or any kind of feedback, please let me know

P.S: You can also find details of how ruplacer works and a little bit about its history on my blog
Last edited by dmerej (2018-10-16 16:16:35)
---
Responsible Coder, Scrum Master, Buildfarm Guru, Python3 Fan
twitter: @d_merej mastodon:@dmerej@mamot.fr