Hello, my issue is that I can not connect to my 802.11n wireless router with my 802.11a/b/g/n wifi card using the A/N band with 5 GHz.
I can only connect to the wireless router when using the B/G band at 2.4 GHz.
I have a Verizon WPAK2 Dual Band Wireless-N Router capable of 5 GHz and I also have the Intel Centrino Advanced-N 6200 802.11a/b/g/n dual band wifi (2.4 GHz and 5 GHz), 2x2 adapter, so I would really like to use the 5 GHz for the higher speeds and greater network capacity. Any help in fixing this would be appreciated.
I also use KDE 4.10 and Networkmanager.
Me connected at 2.4 GHz on Channel 11: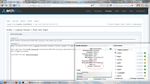 This is the only KDE Networkmanager settings that work (Infrastructure):

I can't connect using the A band settings for Ad-hoc:

When searching the forums/google I find a few similar issues but no clear answers. I also have found a few pages saying that there was an issue with the newer kernel versions. I'm just wondering if there is something I can do to fix this? (I also tried to connect manually but failed in all attempts)
Last edited by Cygnet_Committee (2013-02-20 00:34:37)