Hello Everyone. I have a faced with a problem when i trying to preview international fonts.
I go to System-Control Center-Look and Fell-Fonts and see black boxes instead some fonts. As i see, it show black boxes when particular font type is international. For example: Japanese, Arabic.
For example, Its for my native language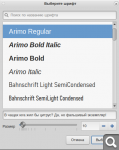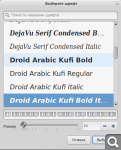 Generated locales:
C
en_US.utf8
POSIX
ru_RU.utf8
Intalled fonts:
ttf-ms-win10, ttf-croscore, ttf-dejavu, ttf-droid, ttf-opensans.
Can i fix this problem?
Last edited by Serrg (2020-11-16 20:14:36)