I am trying to connect the university wi-fi, which is part of eduroam network. However, I have difficulties to write the following instructions into a correct netctl configuration file: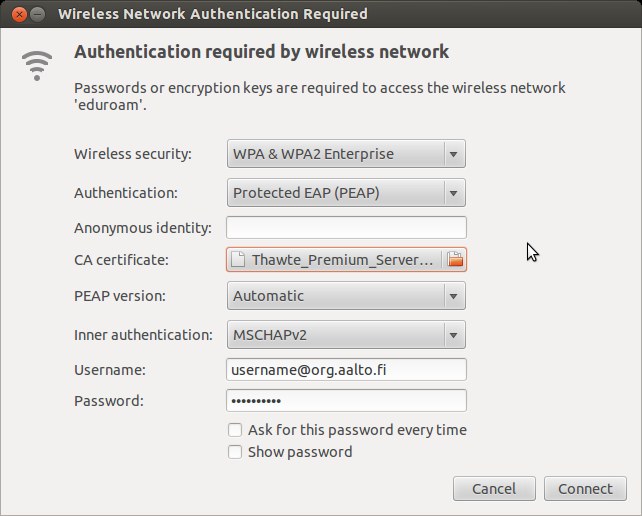 I have downloaded the required certificate into the folder that is mentioned in the configuration file. The file itself is /etc/netctl/eduroam and its contents are:
Description='eduroam'
Interface='wls1'
Connection='wireless'
IP='dhcp'
ESSID='eduroam'
Security='wpa-configsection'
WPAConfigSection=(
   'ssid="eduroam"'
   'key_mgmt=WPA-EAP'
   'eap=PEAP'
   'proto=WPA RSN'
   'identity="$my-account@org.aalto.fi"'
   'anonymous_identity="anonymous@org.aalto.fi"'
   'password="$my-password"'
   'ca_cert="/etc/ssl/certs/thawte_Premium_Server_CA.pem"'
   'phase2="auth=MSCHAPv2"'
)
After trying to connect the network using command
sudo netctl start eduroam
the system gives me an error message:
Job for netctl@eduroam.service.service failed because the control process exited with error code. See "systemctl status netctl@eduroam.service.service" and "journalctl -xe" for details.
The details are:
● netctl@eduroam.service - Networking for netctl profile eduroam
   Loaded: loaded (/usr/lib/systemd/system/netctl@.service; static; vendor preset: disabled)
   Active: failed (Result: exit-code) since Wed 2015-09-02 13:01:18 EEST; 27s ago
   Docs: man:netctl.profile(5)
   Process: 2056 ExecStart=/usr/lib/network/network start %I (code=exited, status=1/FAILURE)
   Main PID: 2056 (code=exited, status=1/FAILURE)
What am I doing wrong?
Last edited by shield_of_hope (2015-09-10 18:48:53)